At Gracepoint our kids (nursery through grade 4) experience safe, age-appropriate environments where they learn about Jesus in a creative and relevant way.
Your First Visit
Here's what to expect when visiting with your kids for the first time:
First, when you walk into the lobby, head to the right where you will see our Kids check-in with one of our amazing leaders who will help lead you in the check-in process.
REGISTER YOUR CHILD BEFOREHAND
Upon checking in for the first time, we will ask for the following personal information (NOTE: We value your privacy and will not share this information with anyone).
Parent/guardians name(s)
Child's name
Child's birthdate
Home address
Phone number
Email
Any specific instructions (allergies, special needs) for your children
How Check-In Works
Before the Service: You can check-in your child at the check-in computer to the right when you walk into the lobby. After finding your child's name in the database, you and your child will be given matching name tags that are exclusive to your family and your visit. Your child will need to wear the name tag portion while you hold onto the matching tag.
Kids Dismissal: After the first song, one of the members of our family ministry team will come up on stage and dismiss the kid's to head down to their classroom. You can take your child and head to the right of the sanctuary, out the door, and down the stairs to the basement where you will drop your child off in the big room full of toys and leaders who will lead your child in games and Christ-centred teaching. Junior highs, elementary, and preschool are all located downstairs. 0-23 months will be in the nursery located upstairs to the right of the lobby.
After the Service: After the service is complete, you will head to where you dropped your child off and show your tag in order for your child to be released back to you.
Meet our Family Ministry Pastor
Chris is one of the faces that you will see on a Sunday morning serving your kids.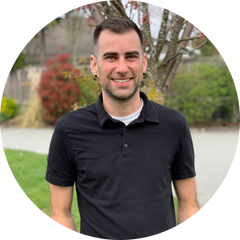 " We want to help kids encounter the love of Jesus by ministering to them as an extended family" - Chris Reitmayer, Family Ministry Pastor
Got Questions?
If you have further questions about Kids Unlimited, or if you would like to receive our weekly Kids Unlimited newsletters, simply email us at ku@gracepoint.ca